Dolev Salem, who until recently was the partner of Yaniv Ben Moshe, the divorcee of model Tahonia Rubel, posted a video on her Instagram in which she is bitter with tears and tells about the period of her relationship that she recently went through. She apologized to Tahonia when she came out against her in the past, for not believing allegations of violence she experienced on the part of her divorcee, and also from her family members who she says to this day do not speak to her because of the relationship with Ben Moshe, whom they opposed.
Salem said in an Instagram video: "You send me full of messages and I can not answer all of you, so I want to tell you here in a concentrated manner that first of all thank you for the good messages and thank you also for the bad ones. I definitely deserve it and I brought it on myself. At first, Yaniv was the man of dreams, I have a crippled brother in a wheelchair that I take care of, so at first he got into my heart by taking him and taking care of him and taking care of him, and everything was a game for me to fall in love with, and that's what happened. At first he was the most amazing and best man. You know, a man can not hide his true face forever. "
She added in tears that "when the real face came out, I was already deep in the mud, because I had a quarrel with Tahonia and the entire State of Israel. Tahonia sued me, already everyone hated me, my family does not talk to me to this day they deleted me. They are not willing for me to talk to them or forgive me for everything that was and for choosing to go out with him. When I defended him like that in the media these are things he told me to say. Because if he says that as a man then they will not believe him. He told me everything has videos and receipts, and it turns out there was nothing it was all lies. I came and defended him, I walked like a blind man, I thought I was facing a human being who was an angel. You do not know how he treated me at first. Then I started to realize that he was doing drugs all day, I did not know these things in advance. He would do terrible things that I am ashamed to tell it. So I had no one. My family does not talk to me, they are not ready to hear about me. "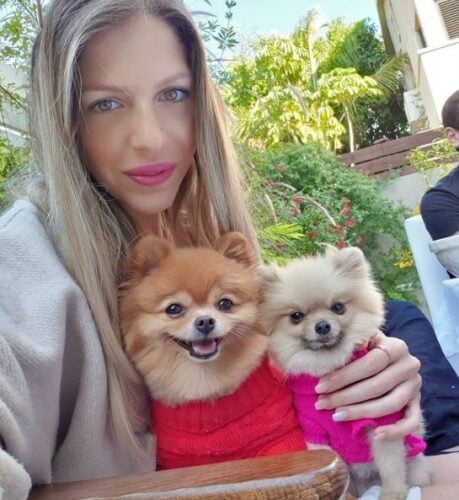 Salem added that at one point she decided to break up with him and hired the services of an attorney to help her with the process, "I had an attorney who accompanied me and told me you need to document everything from now on and get out of it wisely, and that's what I did. And just the day I told him "I want to say goodbye" in the best way possible, he just took a Japanese knife and he cut my pool, the garden, the roofs in the garden from such a fabric, broke my whole house, the door in the bedroom… Tell you something, I I was not afraid of me, I was afraid of my crippled brother who lived next door to me who I brought to live next to me with a caregiver but anyway, no matter what I say, I deserve it. Really everything I deserved because I went blindly after a person I did not really know, for what and why? I deserve it and Tehonia deserves thousands of forgiveness, and I will ask her for forgiveness every day and I will ask her for the rest of my life and I really hope that one day she will forgive me. "
Finally, she turned to women to warn against similar cases: "Dear women, I accept all your reactions and I really deserve it. Just be careful. First of all do not bring a person into the house so quickly. Because once I put it in, I could not take it out. Because in terms of the police law, I was told that after 60 days in his house, where I have lived for two and a half years, it is impossible to evict him – he is a protected tenant. You will understand that I could not get out of it no matter how, I was deep deep in the mud and I was alone. Because my family to this day does not talk to me and they are right and you are right. I really regret it, I cry every day how stupid I was. why do I deserve it ? Because all the time I'm doing good things, taking care of people and donating, so I do not understand why I deserve it. But it's a great lesson for life and I hope you too will learn from it, I accept all your reactions for better or worse. And this is what I really wish me and Tahonia to go through this period, he never stops bothering us. I wish there would finally be justice here in the State of Israel. "
The Mako Celebs website posted videos from the court walls a moment after Ben Moshe allegedly tried to attack Salem. The video shows Ben Moshe lying on the floor while two security guards catch him and prevent him from moving. The website reported that in a conversation with Salem, she described what happened: "He left the hall and looked for me in the hallway. I asked the security guard not to move because I saw him raging inside. He threatened Tahonia's lawyer with murder. "Unfortunately, for a split second the security guard was distracted, and Yaniv simply ran up to me and reached out his hands to strangle me, saying 'I will kill you'."
Salem claimed that at that moment he poured juice on her that he was holding in his hand, and the security guards stormed him. Ben Moshe was subsequently taken to the police station and a complaint was filed against him.
Yaniv Ben Moshe and Tahonia Rubel were married in January 2020 after three months of dating. They gave birth to their joint daughter together and a few months later (October) Tahonia announced that she had decided to divorce him due to a "violent relationship" as she claimed to have experienced on the part of Ben Moshe. Not long after, Dolev Salem began her relationship with Ben Moshe, when at the beginning of the relationship she defended him and attacked Tahonia for the publications against him and later Tahonia even filed a defamation lawsuit against her. Three months ago (February), Salem broke up with Ben Moshe.
We contacted the law firm of Adv. Shai Rubin, representing Yaniv Ben Moshe, for a response, but this has not yet been received. When received it was published.