The bathing area in the fireplace invites gatherings. Its central part is not only for bathing. It is likely that due to the fact that this house should generate as many interactions as possible, even when it comes to the most intimate place, Shmari Gal, the designer of Beit Ha'ach, chose to incorporate comfortable seating.
And maybe it can be a good idea when it comes to the home bathroom – have you thought about using the bathroom as an alternative meeting place? Without the stress of the whole day, in the most relaxed place imaginable, when you shower, your partner can sit right across the shower and talk to you about life. Although the bathing space is enclosed by a glass shower, its central part has a milky finish that creates a seal and preserves the individual's modesty.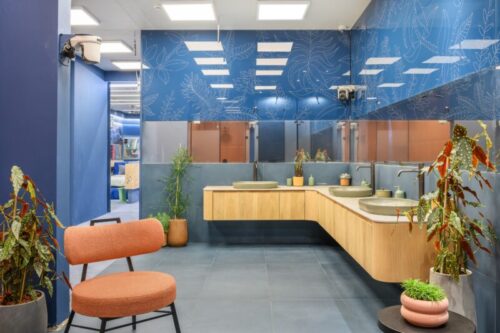 The seating area is chosen in a color that matches the covering of the space and especially the bathing area – the upholstery corresponds with the color of the covering tiles and the legs of the seating system are materially connected to the sanitary utensils – the marker head and spout are also made of metal. The soft padding comes in contrast to the covering floor tiles. The clean formality with the straight lines of the cladding and flooring tiles meets wallpaper with decorations in rounded botanical motifs. A mirror strip that runs along the entire sink complex creates a reflection that allows the cladding tiles to be reflected and create an interesting encounter with the wallpaper fixed above the mirror strip.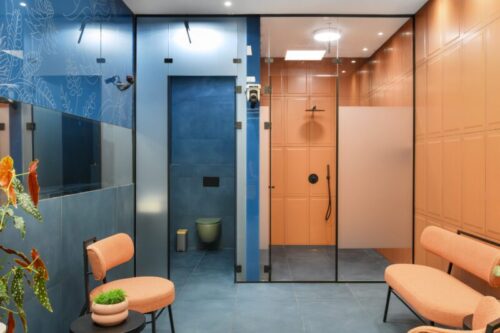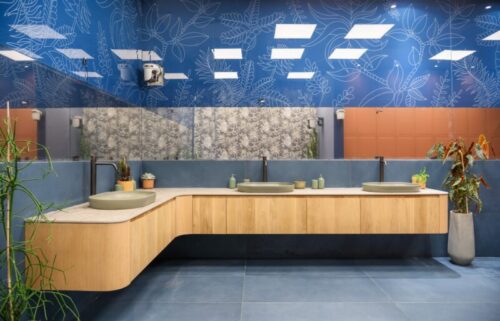 The Aloni company provided the tiles for cladding, flooring, sanitary ware, and the designer Anat Agassi, who manages the architects and marketing department at the Aloni company, explains: "The entire space is designed in a way reminiscent of a fun hospitality space – a palette of pastel shades, creating a pleasant softness for a stay, but beyond that, there is a reference to the finishes for formality – the powder-colored cladding tiles come with a phase that creates a three-dimensional look. The flooring is in a less conventional shade of turquoise petrol, but surprising in its fit with the space. The meeting between the powder and the petrol creates a contrasting meeting, which largely characterizes the design of the fireplace this year – insisting on contrasts between soft and hard, arched and rounded, dark and light and more. The spectacular contrast that emerges at the meeting between the purple covering and the bright blue flooring, creates a lot of interest, but at the same time without creating unnecessary clutter. The choice of bathroom sinks and a toilet in an olive shade brings into the space soft color points that correspond with the colors around them.