Last Friday at around 14:00 (local time) the residents of the town of St. Andrews near the city of Bruges in West Flanders in Belgium were amazed to see a light plane crashing before their eyes on the road.
The Dyn'Aero MCR-01 light aircraft began to dive at a height and the pilot who lost control of the aircraft, realized that he was about to crash, opened a parachute in order to slow down the aircraft and reduce the force of the impact on the ground and prayed that the incident ended safely.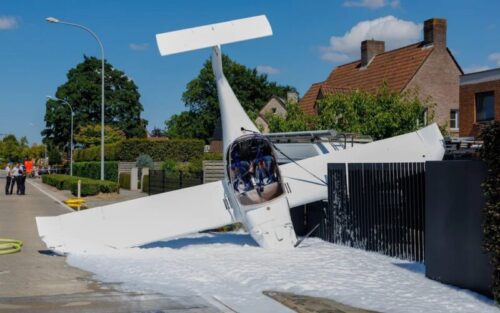 Indeed, as the pilot had hoped, the plane hit the front of the road and the pilot quickly escaped outside the cockpit with only minor injuries.
The pilot later told the country's emergency services that he lost control of the plane due to a technical failure. Firefighters rushed to the scene but the plane did not catch fire.
The residents of the town say that the road is usually busy but there were no others involved in the incident.