Yuri Volkov, an auxiliary force for about 20 years in the emergency medicine department (emergency room) in Ichilov, is the one who was murdered this evening (Wednesday) in the violent incident in Holon.
He was stabbed while crossing a crosswalk in the city, a few hours before he was supposed to start a night shift treating and saving the lives of others. He got into a confrontation with a scooter rider who apparently stabbed him and fled the scene.
The management of the medical center stated that it: "Shocked by the terrible case and hugging in these difficult times his dear wife Ella, an auxiliary force in the otolaryngology department and their two daughters."
Shira Peleg, responsible nurse of the department along with the entire staff said: "There are no words that can describe the evil and barbarism of the abominable murder and the feeling of astonishment, pain and sorrow that overwhelmed us upon learning the hard news about our Yuri. Our hands are shaking and our hearts are pounding hard, because it is about someone who has defiled and trampled with a rude and incomparable foot the most sacred universal principle – the value of the sanctity of life".
They continued: "Yuri was before a night shift, on his way to errands in his hometown, and you didn't know that the worst of all was ahead of him because of a vile and unrestrained man of the worst kind of cowards who, without knowing him and because of an unnecessary and casual argument, took his life, just like that. Destruction at the hands of family, friends. Took a life. Our beloved Yuri was a kind person, honest, fair, modest, 'hiding in the dishes', sensitive and wonderful, modest, amazing and charming. A dedicated worker for the patients who happily came to work and proved himself good despite all the difficulties and even received a certificate of excellence.
They finished: "They say that God chooses the best by his side, and Yuri was like that, not standing out, but sensitive, wise, and touching every person wherever he was. Yuri, we will miss you, your death is not caught, the pain pierces our aching and aching heart. We hug your wife and family for the difficult loss".
Police forces are conducting extensive searches for the scooter rider.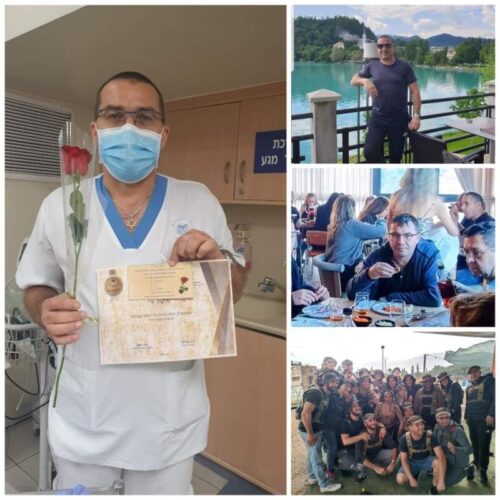 Violence in Holon: The death of a 52-year-old resident of Bat Yam was determined