Naftali Bennett today (Tuesday) filed a defamation lawsuit against Rabbi Ronan Shaolov, claiming that he defamed himself when he spoke about Bennett's Jewish identity and his American parents. Shaulov even called Bennett "Dog" in one of his speeches and later apologized for this statement.
Bennett's environment stated: "Former Prime Minister Naftali Bennett this morning filed a 1 million NIS libel lawsuit against Rabbi Ronan Shaulov who defamed Bennett's late father and mother as if the Jewishness of the late James Bennett was in doubt, and as if Myrna Bennett was not Jewish, and Yes, according to Rabbi Shaolov, former Prime Minister Bennett himself is not Jewish. The sermon that Rabbi Shaulov repeated week after week, mixed with appalling epithets and curses intended to hurt Mr. Bennett and his family members."
In addition it is said that "Rabbi Shaolov's "sermon" was "successful" in a big way. It was widely distributed and watched on the various channels with at least 700,000 views. This lie took a deep hold among a large public. Bennett's mother, Myrna Bennett – whose father's family, Israel Lefkowitz, and her mother's family, Michala Buroshansky, have been Jewish for generations, and who were murdered in the Holocaust because of their Jewishness – has received many inquiries over the past year regarding doubts about her Jewishness, and this has brought her deep sorrow and pain. She stood helpless in the face of the lie that permeated the social networks."
"Even at this moment, whoever types the words "Bennett's mother" into Google will see an automatic completion for "Christianity", "Vagoya" and more (see attached photo), a figure that reflects that these are the searches of the public of users. Prime Minister Bennett avoided dealing with defamation lawsuits during his tenure as he devoted all his time to running the country and believed that it was his job to absorb. Now, Mr. Bennett has decided to act actively against the poison machine, and against the spread of lies that poison the public discourse. It was appropriate for Rabbi Shaolov to plead for forgiveness from Myrna Bennett and not deepen the slander, and dig in his lies as he did. God does not forgive transgressions between a person and his friend, without the sinner seeking forgiveness from the offender. The compensation will be donated to associations of families of IDF martyrs."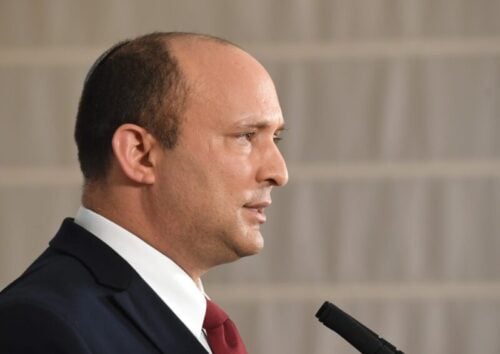 Rabbi Ronan Shaolov apologizes: I'm sorry for calling Levnet a dog