Just before the joint show at the Menorah Mitvatim Hall and 15 years since they released a song. Shared by Subliminal and the Shadow, they join forces and release today (Tuesday) for the first time a new single. That will make us all raise our hands in the air.
Next week Subliminal and the Shadow will make history on stage at Menorah Hall! And they will perform a historic show on the 360 ​​stage at Menorah Hall – on January 22-21, 2023. Finally, after a disconnection of more than a decade, Subliminal and the Shadow join forces and raise Menorah Hall, ensuring the show that everyone is waiting for.
Subliminal and the shadow, with the Tackett family, in a huge show, full of emotion, rhythm, joy and soul. With the songs that became the soundtrack of our lives in the Land of Israel.
Words:
with hands in the air
Ladies and gentleman
Welcome to 2023
Yeh
up up up up
Tact We never stop
Let's pick up another shot shot shot
All hands in the air!
Came like Ra pa pa
We broke the floor
Raise the ceiling
with hands in the air
Ten, nine, eight, seven
Not another moment
All hands in the air!
Sita, Hamsa, Arba, Talata
Everyone come on
with hands in the air
Sub and Shadow Kong and Godzilla
Let's have a whale of a time in the villa
Steak on the Shiloh and chaser tequila
If she wants it, bring it to her. Let's start
Vatus locos, rap like tacos
Don't fly low cost, Cash like Narcos
Son of Rafi, son of Amos
Marco's heart, Thanos' swag
Karamba Islands, Kwabanga
Tel Aviv, Chimichanga
Came like a blow to the forehead
Mada Paka will be here forever
So Orla Orla Orla
We won't stop celebrating until the light comes up
The glasses are already empty, the place is full
In the chorus, the vale rises again! Ola!
ditty.
Like coal in a hookah I light up
Breathing out I'm all thrown
She thinks she is playing a game with me
Nila Tikitik, I'm Tiki Tacket
So Ariba Ariba or Dalla Dalla
Another gasoline tank is full
And we will lift up the crowd
Fluttering tires I'm not legal
flew two hundred and eighty km"That
They give me a briefing, they give me d"That
Who lights the field's lantern?!
My brother by my side, why who approached?
The perfect combination of yin and yang
We don't grow up like Peter Pan
Get better over the years like wine
The traitors are served the…
ditty.
Still a third house, that's the message
In the 2000s we made a school
Still no partner, no Orange either
So get ready because this time it's college
They are still about divide and rule
Promises without coverage, talk like sand
Plastering smiles, it's starting to leak
I wish it was better yesterday.
Hello hello Bro Ca Paso?
How do you catch your life with a lasso?
Well, they thought they would make us castes
But everything comes back like clockwork
So it's time to understand interest
Thousands of champions supplement from Mian
Foundations and seeds that germinated long ago
The elite in Hebrew are moving forward from here!
ditty.
credits:
Performance: Subliminal and the Shadow
Words: Kobi Shimoni and Yoav Eliasi
Composer: Kobi Shimoni and Yoav Eliasi
Arrangement: Chen Dj BrainDead Tuchner Vasi Tal
Guitars: Avi Singolda
Trumpet in madness: Adi Meiri
Editing and additional keyboards: Esi Tal
Voices: Hananal Adri and Moran Mazor
Recorded at Tacket Studios and Asi Tal's studio
Mix: Ron Tikhon and Kobi Shimoni
Mastering: Ron High School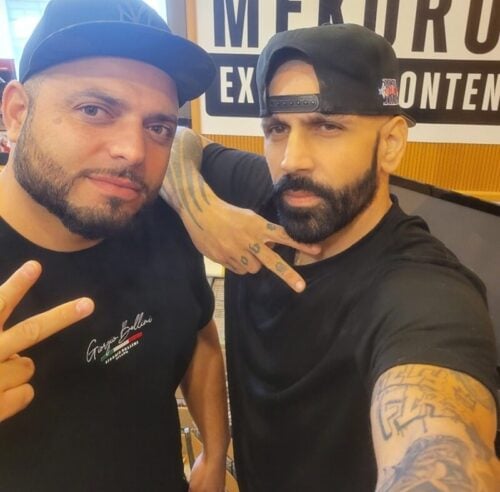 circulated on social networks. Use according to Article 27 A of the Copyright Law.
We respect copyrights and make a great effort to locate the copyright holders of the media content that comes to us. If you have identified in our publications a photo in which you own the rights, please contact us in order to give you proper credit or alternatively to stop using it. For inquiries via email"To: [email protected]